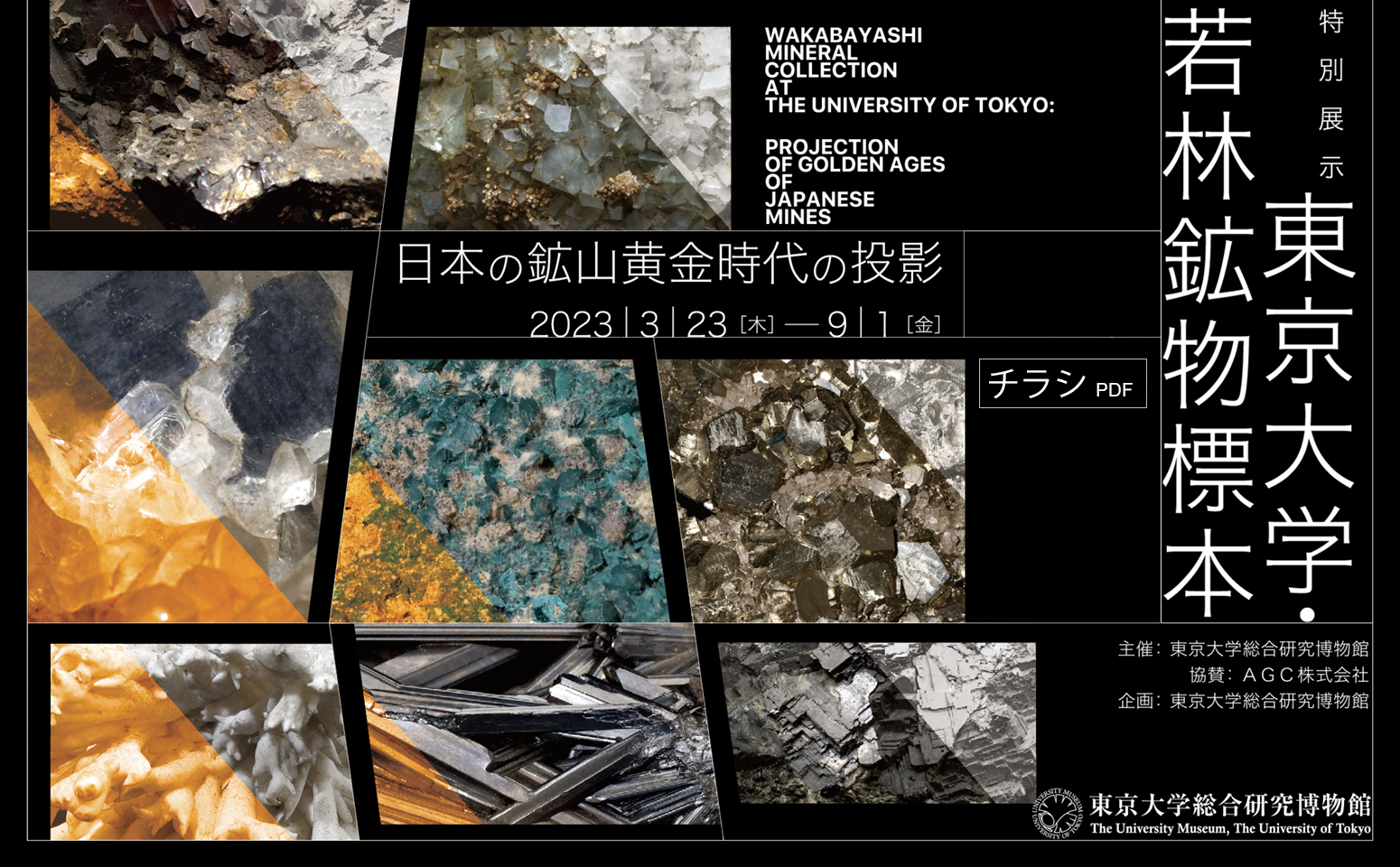 Special Exhibition
Wakabayashi Mineral Collection at the University of Tokyo:
Projection of Golden Ages of Japanese Mines

Exhibition Planning: Takashi Mikouchi (Professor, UMUT), Kaoru Kiyota (Curatorial Work Associate, UMUT)
Exhibition Design: Tsuneo Ko (Project Professor, UMUT), Hiroyuki Sekioka (Project Associate Professor, UMUT)


The University Museum has accumulated tens of thousands of mineral specimens since the early Meiji Era, and what is called the "Wakabayashi Specimens" is one of the core collections. The collection was named after Dr. Yaichiro Wakabayashi, a mining engineer for Mitsubishi Limited Partnership. The Wakabayashi Collection consists of more than 2,000 specimens collected mainly from metal mines from the late Meiji to early Showa periods, and is one of the three major mineralogical specimens in Japan, along with the Wada (Mitsubishi Materials Co.) and Ko (Kyushu University) specimens. The Wakabayashi specimens have not been exhibited in their entirety until now, but for this special exhibition, approximately 900 specimens (about half of the total) were selected to be displayed along with other museum mineral specimens in an attempt to retrace the golden ages of Japanese mines. In particular, the Wakabayashi specimen display area recreates the atmosphere of a specimen display room in the early Showa period, with several hundred specimens arranged under the floor as well, creating a special atmosphere. One thing that can be said for most of the specimens is that the mines from which they were collected have been already closed. In other words, these specimens are a projection of the golden ages of mining that shone throughout Japan in the past. We hope that you will look at these beautiful mineral specimens while thinking back to the good old days of mineral research.


Period : 2023.03.23-2023.09.01
Opening days : see the opening calendar
Opening hours : 10:00-17:00 (last admission : 16:30)
Institution : Hongo Main Museum, The University Museum, The University of Tokyo (UMUT)
Location : 7-3-1 Hongo Bunkyo-ku, Tokyo, Japan
Access : 6 minutes on foot from Hongo-sanchome station of the subway Marunouchi line
3 minutes on foot from Hongo-sanchome station of the subway Oedo line
Map : http://www.um.u-tokyo.ac.jp/information/map_en.html
Exhibition flyer : http://www.um.u-tokyo.ac.jp/exhibition/2023wakabayashi_flyer.pdf
Host Organization : The University Museum, The University of Tokyo (UMUT)
Cooperation : AGC Inc.
Admission : Free of charge